GUAPDAD 4000 AND !LLMIND RELEASE DELUXE VERSION OF 1176

SHARE NEW VIDEO FOR "HOW MANY (REMIX)" WITH RICK ROSS
1176 (Deluxe Edition)
Guapdad4000.lnk.to/1176DeluxeEdition
WATCH:
"How Many (Remix)" with Rick Ross
Guapdad4000.lnk.to/HowManyRemix
What the press is saying about 1176:
"The Bay Area rapper delivered his patented brand of creative, eccentric, reality-bending bars in 1176"
Complex
"you can smell the peppercorns and bay leaves, can see the world through Guapdad 4000's eyes"
Pitchfork
"The Oakland rapper's talent, creativity, and versatility are set to take him straight to becoming one of music's brightest stars."
Revolt
"one of the most heartfelt, vulnerable coming-of-age albums in hip-hop history"
Uproxx
Today, Guapdad 4000 and !llmind are releasing the deluxe edition of their collaborative album 1176 via PARADISE RISING. Following the record being named one of the Best Albums of the Year So Far by Uproxx, the deluxe edition of 1176 features six new songs including a remix of their standout single "How Many," with rapper, entrepreneur and record executive mogul Rick Ross, which arrives alongside a Chris Simmons-directed video.

Speaking on the deluxe album, Guapdad says: "!llmind and I made way too many songs. So many that I couldn't help but feel like the world has to hear them. I held back on features for the first release so with this one I decided to drop the 'biggest' one. Rick Ross gave me his blessing on this album making it a true Deluxe"

In celebration of the deluxe album release, Guapdad will also be hosting a special screening of the film Stoop Kid which initially premiered at Brain Dead Studios earlier this week. There will also be a second hometown screening that will take place at Lake Merritt in Oakland this Sunday, June 13th.

Executive produced by !llmind, 1176 takes a peek behind the curtain as Guapdad narrates his life up to now, touching on everything from his Filipino upbringing to life with his family in Oakland. In contrast to his last album, the star-studded Dior Deposits, which The New York Times named one of the best albums of the year in 2019, 1176 hones in on Guap telling his own story, with the help of some of his close friends Buddy, P-Lo and Tish Hyman. Guap and !llmind are the first artists to release a full length project through PARADISE RISING which is dedicated to uplifting artists of Filipino descent.

Watch the video for the "How Many (Remix)" and listen to the deluxe edition of 1176 above and stay tuned for more from Guapdad 4000 coming soon.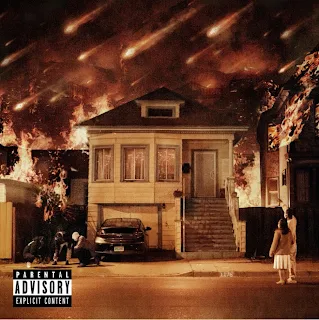 Guapdad 4000 & !llmind
1176 (Deluxe Edition)
PARADISE RISING
June 11, 2021

1. 10finity
2. How Many
3. She Wanna feat. P-Lo
4. Big Shot
5. Catching Bodies
6. Chandler
7. Muhammad
8. Touch Dough
9. Downgrade
10. Uncle Ricky
11. Gargoyles feat. Tish Hyman
12. Playstation feat. Buddy
13. Chicken Adobo
14. Stoop Kid
15. How Many (Remix)
16. Justin Bieber
17. Mad Max
18. Slumber Party
19. Swear To God
20. Say It Ain't So


About Guapdad 4000:
Growing up in West Oakland provided the Grammy Nominated, Platinum recording artist Guapdad 4000 (born Akeem Hayes) with a vast treasure chest of invaluable inspiration, encouraging him early on in life to explore his innate talents as a multi-hyphenate creative and eager student of the game. Guapdad's profound sense of humor, paired with his aptitude for commanding attention, translated organically into his lighthearted freestyles and ignited his interest in developing his well-rounded capacities as a vocalist.

While navigating an upbringing challenged by both parents being in and out of jail at often overlapping time frames, Guapdad 4000 began operating out of a necessity to both survive and take care of his siblings and grandmother. Driven by his greater desire to rise above such calamitous circumstances, he turned to illicit means to make money, such as credit card fraud and petty theft, a path accented by ups and downs that later provided ample material for his original content.

After releasing a slew of successful hits since, in the summer of 2019, Guapdad 4000 released his highly anticipated debut album, Dior Deposits in October of 2019. In addition to his singles setting the charts on fire and his solo album going viral, Guapdad also continues to build a buzz after his features on Dreamville's Grammy Nominated RIAA Platinum Revenge of the Dreamers 3 album by performing at prominent festivals nationwide and touring with P Lo, Earthgang (Dreamville) and Denzel Curry.

Guapdad 4000 hasn't just been releasing hit after hit, the music videos that accompany the internet savvy rapper's singles go viral as well thanks to his eye for entertaining visuals. Last year's track "Lil Scammer that Could'' captures the rapper's fun but serious personality perfectly and gives fans a look inside the rapper's creative mind. Furthermore, Guapdad's innovative visuals and vlogs ultimately earned him a selection for the YouTube Music Foundry.

With his last year's release Platinum Falcon Returns garnering features from artists like Denzel Curry, Boogie, Deante Hitchcock and more, Guapdad 4000 released one of the most exciting and refreshing EP's in Hip Hop of last year. Guapdad's talent, creativity and versatility marks him as one of the most promising budding stars of the music industry.

This reigns true in his latest collaborative album with !llmind, 1176. Already called one of the best albums of the year so far by Uproxx, along with acclaim from the likes of Complex, Highsnobiety, HotNewHipHop, The Ringer and others, the album hones in on Guap telling his own story, with the help of some of his close friends Buddy, P-Lo and Tish Hyman and now Rick Ross on the special deluxe edition of the album.

About PARADISE RISING:
In July 2020, 88rising launched its first sister label PARADISE RISING, dedicated to establishing and promoting Filipino artists globally and in partnership with Globe, a leading full-service telecommunication company in the Philippines. PARADISE RISING's debut release, semilucent EP, is a curated compilation album featuring the most promising Philippine acts, garnering recognition from Forbes, BusinessMirror and Billboard as the platform to highlight such talent. In 2021, PARADISE RISING is set to release new music and sign up-and-coming Filipino artists.

About 88rising:
Heralded by Forbes as the bridge between East and West, the face of a new generation of Asian youth by CNN, and an authority on how to create Asian and American pop-culture crossovers by The New Yorker, 88rising is at the forefront of catapulting Asian culture and stories into new dimensions. Refusing to be confined within a single vessel, 88rising has exceptionally executed any and all ideas, while breaking new ground along the way. Best known as the team behind Internet-breaking sensations, including Joji, Rich Brian, Higher Brothers and Keith Ape, 88rising have quickly escalated to selling out world tours, hosting festivals and working with today's biggest stars. To say that 88rising has their finger on the pulse is an understatement. With over 5.1 million subscribers and 2.2 billion views on their YouTube channel, 88rising's influence is undeniable.

About Globe:
Globe is a leading full-service telecommunications company in the Philippines and publicly listed in the PSE with the stock symbol GLO. The company serves the telecommunications and technology needs of consumers and businesses across an entire suite of products and services including mobile, fixed, broadband, data connectivity, internet and managed services. It has major interests in financial technology, digital marketing solutions, venture capital funding for startups, and virtual healthcare. Its principals are Ayala Corporation and Singtel, acknowledged industry leaders in the country and in the region.