Making it in the music industry this days involve alot of work beside being creative, great beat and being conscious.
I've seen a lot of artists who are very good and creative not making it, and eventually fading out after a period of time.
If you want to make it this days you have to be willing and ready to invest money in promoting your work through music blogs, radio stations, TV stations and if you'd like you can take it a step further by having your own website where you can sell your songs, tickets, and even your merchs if you have the intention of selling merchs.
To have your own website, you have to put into consideration some or if not all of the following factors;
1. Price
Alot of people when considering a web host put this factor at the forefront front, but in reality this shouldn't be so. Most especially if you hope to make money from your website, you should consider a host that will give value for your money. For instance, a host that charges $1. 95/month for the host can't be compared to a host the will charge you $5-10/month or so. Why? The uptime, support and everything of the latter will be on a whole other level.
2. Area of Focus
Some Web hosts, are niche based. This means, they are best for a particular purpose (i.e music, store, etc)
Before choosing a host, consider what their services.
Some have great support and up time but not good for small business purpose or music blogs.
3. Limitations
This time you have to consider the RAM of the host, speed and processing power, e-commerce, forum etc. If you are artist and would want fans to visit your site after their first time, you have to put all this into consideration.
4. Tech Support
Is the Web host support team up and running 24/7? If your site is down, is there someone you can put on the phone and talk to? Is there someone you can email, chat with or send a text? This is usually the most important thing some people consider when it comes to web hosts.
5. Features
Here you should consider, what makes this Web host exceptional in hosting my site. Whether it's multiple data centers, energy-saving practices, or additional features such as regular data backups or free domain privacy, hosting companies often offer more than just servers.
You should endeavour to know and identify any Web host that will provide you with the features that you desire, this could be the host that you need for your music.
6. Hardware
Is your host using the latest equipments and servers? This will greatly affect your site up time, speed and performance.
When thinking of the best Web host for your music site, you should put this into consideration.
7. Reputation
What are the customers saying about your intended host, are they easy to contact? What is the customer reviews?
8. Email Features
This is one of those areas where you might not have considered asking your host for help. If you have a spam problem, then it may be because your hosting company doesn't provide an adequate solution to stop it. Look into or ask about your provider's spam solutions and general email practices. No matter what they say, email isn't dead quite yet.
9. Control Panel
Is the email Features, FOR etc easy to install even if you're not tech savvy?
10. Room to Grow
Every website owner always has plans of expansion at some in their career, as an artist you should always put this into account when choosing a host.
Compare and contrast the various Web hosts and the possibility of growth and chose the one most fit for you.
In other words, what you consider adequate hosting now might not meet your needs two years from now, once you start selling your wares online and getting some good traffic to your site.
Any web-based enterprise should have its eye on growth, so if a hosting company might have difficulty accommodating that growth it could pose an issue. Does the host have VPS or Dedicated Server solutions? Will they be able to easily upgrade your account?
To get the best of Web hosting, it is essential you know what Web hosting is and the different types of Web hosting that exist.
So, what is Web hosting?
A web hosting service is a type of Internet hosting service that allows individuals and organizations to make their website accessible via the World Wide Web. Web hosts are companies that provide space on a server owned or leased for use by clients, as well as providing Internet connectivity, typically in a data center. Web hosts can also provide data center space and connectivity to the Internet for other servers located in their data center, called colocation, also known as Housing in Latin America or France.
Now that you've known what Web hosting is, let's talk about the various types of Web hosting services.
1. Shared web hosting service
This is a type of Web hosting service where your website share server with many other websites.
Typically, all domains may share a common pool of server resources, such as RAM and the CPU.
This type of Web hosting service can be quite basic and not flexible in terms of software and updates.
2. Reseller web hosting
This type of Web hosting service allows clients to become web hosts themselves.
Resellers could function, for individual domains, under any combination of these listed types of hosting, depending on who they are affiliated with as a reseller. Resellers' accounts may vary tremendously in size: they may have their own virtual dedicated server to a colocated server. Many resellers provide a nearly identical service to their provider's shared hosting plan and provide the technical support themselves.
3. Grid hosting
This form of distributed hosting is when a server cluster acts like a grid and is composed of multiple nodes.
4. Virtual Dedicated Server
Also known as a Virtual Private Server (VPS), divides server resources into virtual servers, where resources can be allocated in a way that does not directly reflect the underlying hardware.
5. Dedicated hosting service
The user gets his or her own Web server and gains full control over it (user has root access for Linux/administrator access for Windows); however, the user typically does not own the server.
6. Managed hosting service
The user gets his or her own Web server but is not allowed full control over it (user is denied root access for Linux/administrator access for Windows); however, they are allowed to manage their data via FTP or other remote management tools. The user is disallowed full control so that the provider can guarantee quality of service by not allowing the user to modify the server or potentially create configuration problems. The user typically does not own the server. The server is leased to the client.
7. Colocation web hosting service
Similar to the dedicated web hosting service, but the user owns the colo server; the hosting company provides physical space that the server takes up and takes care of the server. This is the most powerful and expensive type of web hosting service. In most cases, the colocation provider may provide little to no support directly for their client's machine, providing only the electrical, Internet access, and storage facilities for the server. In most cases for colo, the client would have his own administrator visit the data center on site to do any hardware upgrades or changes. Formerly, many colocation providers would accept any system configuration for hosting, even ones housed in desktop-style minitower cases, but most hosts now require rack mount enclosures and standard system configurations.
8. Cloud hosting
This is a new type of hosting platform that allows customers powerful, scalable and reliable hosting based on clustered load-balanced servers and utility billing. A cloud hosted website may be more reliable than alternatives since other computers in the cloud can compensate when a single piece of hardware goes down.
9. Clustered hosting
Having multiple servers hosting the same content for better resource utilization. Clustered servers are a perfect solution for high-availability dedicated hosting, or creating a scalable web hosting solution. A cluster may separate web serving from database hosting capability. (Usually web hosts use clustered hosting for their shared hosting plans, as there are multiple benefits to the mass managing of clients).
10. Home server
Usually a single machine placed in a private residence can be used to host one or more web sites from a usually consumer-grade broadband connection. These can be purpose-built machines or more commonly old PCs. Some ISPs actively attempt to block home servers by disallowing incoming requests to TCP port 80 of the user's connection and by refusing to provide static IP addresses. A common way to attain a reliable DNS host name is by creating an account with a dynamic DNS service. A dynamic DNS service will automatically change the IP address that a URL points to when the IP address changes.
Now that you've got to know all the above, let's move on to the next one.
Which is?
TOP FIVE BEST HOSTING SITES FOR MUSICIANS.
1.
InterServer
With the purchase of a single domain name and a virtual hosting reseller account, InterServer was co-founded in 1999 by two ambitious, tech-savvy high-school students by the names of Mike Lavrik & John Quaglieri. They shared a dream of offering data services at affordable prices, while still maintaining a high level of service and support. Their vision led to the formation of a solid partnership and the beginning of InterServer. Now in 2020, InterServer owns and operates two datacenters located in Secaucus, NJ and one in Los Angeles, CA. InterServer provides services, such as virtual hosting, cloud VPS, quick servers, dedicated servers, and colocation.
You can purchase a Web hosting
here
2.
Bluehost
Bluehost is no doubt one of the best Web hosts, founded in 2003 by Matt Heaton and Danny Ashworth in Provo, Utah.
It has powered over 2M websites worldwide and is recommended by WordPress.
Bluehost offers services including shared hosting, WordPress hosting, VPS hosting, dedicated hosting and WooCommerce hosting. Their servers are powered by PHP 7, HTTP/2, and NGINX+ caching.
With a support team that works 24/7 to provide the best to their customers.
You can purchase a Web hosting service
here
3.
Inmotion Hosting
Their web hosting network is based on the fast and reliable Linux and Unix operating systems. It is monitored 24/7 for any unusual activity and benchmarked continuously for performance. This allows them to immediately respond to short-term issues as well as to grow their system optimally - keeping it broadband ready, economical and fully redundant at all times. InMotion is also the only hosting company to offer Max Speed Zones.
This Web host is characterised by;
Fast Web Hosting
For the best performance and faster loading times we use solid-state drives, PHP 7, and custom server caching.
Secure Servers
We use top security measures like auto-updates on web apps, FREE SSL, hack protection, custom firewall, and DDoS protection to keep your websites safe.
Easy Set Up
Enjoy hassle-free setup with our free website migration service, 1-click app installer, and free drag & drop website builder for new websites.
You can purchase a Web hosting service
here
4. Cloudways
To provide the fastest and most engaging experience for its customers, Cloudways offers Debian 8 based servers designed to optimize linux based hosting. Servers already equipped with Thunderstack help with taking on immense amounts of load without any downtime, using minimum resources and eliminating server crashes. This, coupled with SSD based technology, helps give the best Linux experience every time.
Cloudways also offers the following features;
-Free Cloud CDN and HTTPS support
-Vertical scaling of servers
-Staging area for testing websites
-Git integration for instant deployment
-One-click stop for applications and servers
-Folder-like structure for managing multiple projects
-Support for Multiple PHP versions
You can purchase a Web hosting service
here
5. Greengeeks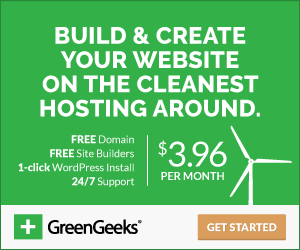 Their specially engineered hosting platform offers Shared, Reseller, VPS, and WordPress Hosting that is designed for the fastest, most secure and scalable hosting available with data centers located in Chicago, Phoenix, Toronto, Montreal and Amsterdam. You can rely on them for expert 24/7/365 support, 99.9% uptime guarantee and a 30-day money back guarantee.
You can purchase a Web hosting service
here
Conclusion
From what we've discussed above, you must've gotten some insight into what Web hosting is and the various types of hosting that exists.
Now it all depend on you to chose which one is most suitable for your needs and budget. Most of the afore mentioned hosts provide 24/7 support to their customers, and are easy to install, design and run.
I wish you the best of luck in your music career.
Reference
Wikipedia.org
Hostadvice.com
Hongkiat.com