'RAP Act' Would Bar Prosecutors From Using Song Lyrics Against Artists
'Our judicial system disparately criminalizes Black and brown lives, including Black and brown creativity,' Bowman said in a statement. 'We cannot imprison our talented artists for expressing their experiences nor will we let their creativity be suppressed.'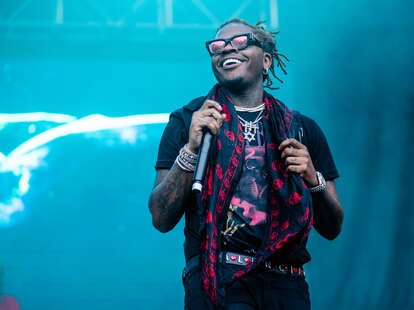 Reps. Jamaal Bowman (D-NY) and Hank Johnson (D-GA) are proposing a bill in the House that would indemnify music artists' lyrics from being legally used as evidence in court cases. The Restoring Artistic Protection (RAP) Act will prohibit prosecutors in criminal cases and lawyers in civil cases to use song lyrics as evidence against the artist.
'Our judicial system disparately criminalizes Black and brown lives, including Black and brown creativity,' Bowman said in a statement. 'We cannot imprison our talented artists for expressing their experiences nor will we let their creativity be suppressed.'
The bill was proposed a couple of months after popular rappers Gunna and Young Thug, as well as several other individuals associated with Young Thug's YSL brand, were indicted on gang-related RICO charges in May 2022. Prosecutors in Fulton County, Georgia, where the indictments were based, have used the artists' rap lyrics as evidence in their cases.
Multiple states have explored similar legislation to Bowman and Johnson's RAP Act on the state level. In May, New York lawmakers passed their own Rap Music on Trial bill. And a version called the Decriminalizing Artistic Expression Act is awaiting a vote in the California State Senate.
Tags
Hip Hop News